Magna IV Marketing Portals | Customize and Localize Your Brand
All it takes is the click of a button. With Magna IV's online marketing portals, customers can achieve maximum efficiency—saving valuable time and money—by creating, customizing and ordering all of their print and marketing materials at one location.
Forward-thinking companies and organizations across the country are now taking advantage of Magna IV's web-to-print portals to quickly and efficiently manage their print needs. Thanks to these cutting-edge online tools, clients such as national restaurant chains, large retailers and well-known non-profits are able to ensure consistent branding standards for all of their locations.
Here's how it works: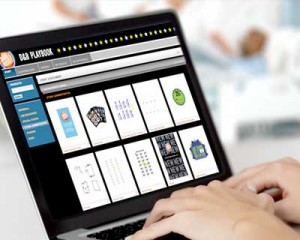 First, Magna IV builds the online marketing portal to best meet the client's needs—customizing it with the company's branding colors, logos and creative elements. Once the marketing portal is set up, designated users are given secure accounts to access it. This allows them to easily search all of the company's approved marketing materials—selecting the products and quantities they want to order. If needed, templates can also be set up to create customized marketing pieces for specific locations. After selecting or creating new materials, users are able to proof and submit their orders online—sending them directly into Magna IV's workflow. Based on the need, the products are then shipped directly to the user or location to ensure the company's products get into the market quicker.
So, why should your business or organization use Magna IV's digital storefronts? Using these marketing portals will help save you time and money. With its centralized billing and reporting, you can see the cost and time frame for each project up front so that budgeting can be accomplished with greater ease. Your users can also easily edit, customize materials or order inventory—all within the portal—without having to slow down your marketing department. It's simple. Get what you need when you need it by setting up an online marketing portal with Magna IV.