Magna IV Marketing Portals | Customize and Localize Your Brand
MARKETING PORTALS
All it takes is the click of a button. With Magna IV's online marketing portals, customers can achieve maximum efficiency—saving time and money—by creating, customizing and ordering all of their print and marketing materials in one location.
Forward-thinking companies and organizations across the country are taking advantage of Magna IV's web-to-print portals. These allow them to quickly and efficiently manage their print needs because of our cutting-edge online tools. Our clients such as national restaurant chains, large retailers and non-profits are able to ensure consistent branding standards for all of their locations.
Here's how it works: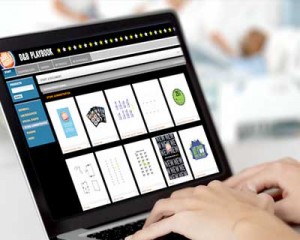 First, Magna IV builds the online marketing portal to best meet the client's needs—customizing it with the company's branding colors, logos and creative elements. Once the marketing portal is set up, designated users are given secure access accounts to easily search all of the company's approved marketing materials. Users select the products and quantities they want to order. If needed, templates can also be created for marketing pieces customized to specific locations. After selecting materials, users can proof and submit their orders online which sends the job directly into Magna IV's workflow. Based on the need, products are then shipped directly to the user or location to ensure the company's products get into the market quicker.
So, why should your business or organization use Magna IV's digital storefronts? Using these marketing portals offers a one-stop-shop experience therefore saving you time and money. With centralized billing and reporting, you can see the cost and time frame for each project up front so budgeting can be accomplished with greater ease. Your users can also easily edit and customize materials or order inventory within the portal, without having to slow down your marketing department. It's simple. Get what you need when you need it by setting up an online marketing portal with Magna IV.
Very easy to navigate the site and add our local info. The time between order and delivery was less than expected. The products were delivered on time at a reasonable cost. The whole experience was great!!!
Magna has always been very helpful any time I've had questions or needed something done faster than usual. When I needed an order in by a specific day but it hadn't been processed yet, Nyiesha Artis pushed the order through and shipped it overnight to us so we would have it in time for our big Street Tea event this weekend. I thought she went above and beyond!
Pat Golding is an excellent person to work with for printing and communicating your needs of what you are looking for with a specific need. He has been very helpful and quick to take jobs that are last minute. Markus has been a huge help as well with questions in regards to getting things setup properly to print for catalog and etc.