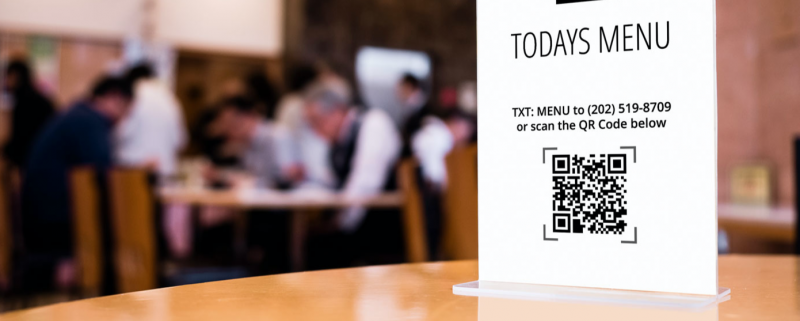 QR Codes: Improving Consumer's Daily Life in a Touchless World
What Is a QR Code?
The onset of the pandemic has abruptly catapulted the need and use of QR codes. Not only are QR codes versatile but they are also safe, hygienic, and can easily and effectively assist marketers and businesses in the process of tracking and documenting campaigns without having to invest and spend unnecessary money. To begin, a QR code, also known as a "quick response," is a 2D scannable barcode. Once a barcode is scanned, users are swiftly directed to a website or a landing page and presented with information or a call to action. Further, QR codes are an evolving marketing tool that has quickly progressed into consumer's everyday lives offering value and information in a blink of an eye. It's 2021; users are wiping their hands clean of anything slow and time-consuming.
Improving Consumer's Daily Life In A Touchless World
Let's look at some impressive statistics: according to Scanova Blog, "Mobileiron conducted a survey across the UK and Europe to check the audience's reliance on QR Codes. It reported that 86.66% of smartphone users had scanned a QR Code at least once in their lifetime. And 36.40 % scan at least one QR Code a week. In addition to this, 46.81% of respondents agreed that QR codes make life easier in a touchless world. But that's not where it ends. A good 38.99% of respondents want to see QR Codes used more broadly in the future."
3 Reasons Why You Should Implement QR Codes into Your Next Business Strategy:
A quick scan of a QR code can lead a consumer to a landing page or a website, removing any unnecessary hassle of trying to navigate through the internet
You can send a message through a QR code benefiting SMS marketing in more ways than one
QR codes can be used to send emails. This marketing strategy can help a marketer to monitor data and email performance rates
Easy To Use Tool
Do you have a smartphone? Did you know that today's latest smartphones come with a QR code scanner? Roughly 85% of people own a smartphone giving them easy access and endless opportunities to use a QR code. It's an easy-to-use tool that any smartphone user could quickly learn. Have you sat down to eat at a restaurant lately? You probably had to scan a QR code to view the menu. This is just one very popular way that QR codes are being used today. QR codes are an efficient and cohesive way for any business to relay information and messages to customers in just a few seconds. Moreover, QR codes are extremely enticing to customers because they can scan on their own time and retrieve and access information when they are ready to take action.
Four benefits of using QR codes in marketing:
Instant access
Easy to track marketing data and analytics
Cost-effective
Can decrease your marketing print needs and expenses
Final Thoughts
QR codes are a creative way to drive traffic and create awareness and engagement with your target audience. It's a new way to market in a technologically advanced and fast-paced world and an effective and cheaper alternative to more extensive print options like menus or magazines. Think about incorporating QR codes into your business and marketing strategies because it will simplify and fine-tune the way you do business.
Contact Us Now for More Information
Phone: 501-376-2397
https://www.magna4.com/wp-content/uploads/2021/04/QR-Code-e1600192716175.png
473
800
Kristi Dannelley
https://www.magna4.com/wp-content/uploads/2021/02/Magna-IV-Logo-Horizontal-No-Tagline.jpg
Kristi Dannelley
2021-05-25 14:04:08
2021-05-25 14:04:11
QR Codes: Improving Consumer's Daily Life in a Touchless World