Saluting Our "Women Entrepreneur"
We're excited to announce Kristi Dannelley, partner and chief operating officer of Magna IV, was recently featured in the Arkansas Times special Women Entrepreneurs' issue. Read her full profile below.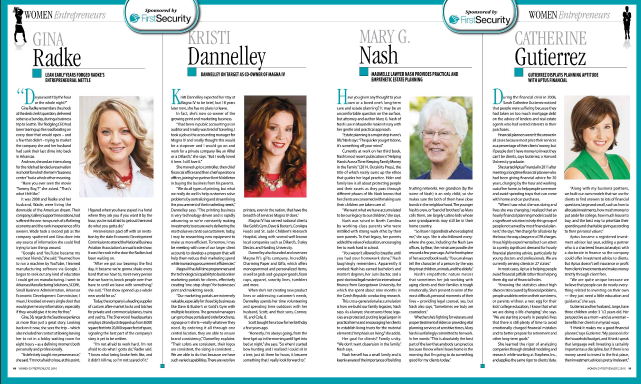 Kristi Dannelley expected her stay at Magna IV to be brief, but 18 years later and she has no plans to leave. In fact, she's now partner of the growing print and marketing business.

"I had been in public accounting as an auditor and was really tired of traveling. So, I took a job as the accounting manager for Magna IV. I really thought this would be a stopover, and I would go on and work for a public company like Alltel or Dillard's," she says. "But I really loved it here. I still love it."

She moved up to controller, then chief financial officer and then chief operations officer, joining her partner Kent Middleton in buying the business from his parents.

She loves the variety of responsibilities she has at Magna IV.

"We do a lot of printing, but what we really do well is help customers solve problems by centralizing and streamlining the procurement of their marketing needs," Dannelley says.
"The printing business is very technology-driven and is rapidly advancing so we're constantly making investments to ensure we're delivering the most value we can to our customers. Today, I may be researching new equipment to make us more efficient. Tomorrow, I may be meeting with one of our larger client accounts to develop a program that will allow us to better serve their marketing needs."
Magna IV has full-time programmers and the technological capability to build online marketing portals for clients, effectively creating "one-stop-shops" for businesses' print and marketing needs.

"Our marketing portals are extremely valuable, especially for those big businesses like Dave & Buster's or Gold's Gym with multiple locations. The general managers can go to these portals and order brochures, signage or t-shirts—really whatever they need. By ordering it all through one central location, they are able to ensure brand consistency," Dannelley explains. "Their colors are consistent, their logos are consistent, the sizing is consistent…We are able to do that because we have such varied capabilities. There are very few printers, even in the nation, that have the breadth of services Magna IV does. That's what sets us apart."

Magna IV has served national clients like Gold's Gym, Dave & Buster's and St. Jude Research Hospital's Dream Home Giveaway, along with several well-known local companies such as ConAgra Foods, Staley Electric and Harding University.

Dannelley also founded and oversees Magna IV's gifts company, Incredibly Charming Paper and Gifts, which offers monogrammed and personalized items, as well as grab-and-go paper goods, foam cups, apparel, sorority lines, tumblers and more.

When she's not creating new product lines or addressing customer's needs, Dannelley spends her time volunteering for local organizations like Big Brothers Big Sisters of Central Arkansas and spending time outdoors with her husband, Scott, and their sons, Connor, 11, and Cole, 8.

Scott bought her a bow for her birthday a few years ago, and she enjoyed practicing with it for a while, and then decided to join him on hunting trips.

"If I want to see my boys I have to go with them because that's where they are," she says. "Honestly, I'm so busy all the time. I'm always going, from the time I get up in the morning until I get into bed at night. So when I started joining them on hunting trips, and I realized I could sit in a tree, just sit there for hours, I began to really enjoy it. It's so nice to just come down for a few hours."
https://www.magna4.com/wp-content/uploads/2021/02/Magna-IV-Logo-Horizontal-No-Tagline.jpg
0
0
Suraj Manandhar
https://www.magna4.com/wp-content/uploads/2021/02/Magna-IV-Logo-Horizontal-No-Tagline.jpg
Suraj Manandhar
2016-12-13 14:11:18
2021-03-15 15:40:56
Saluting Our "Women Entrepreneur"