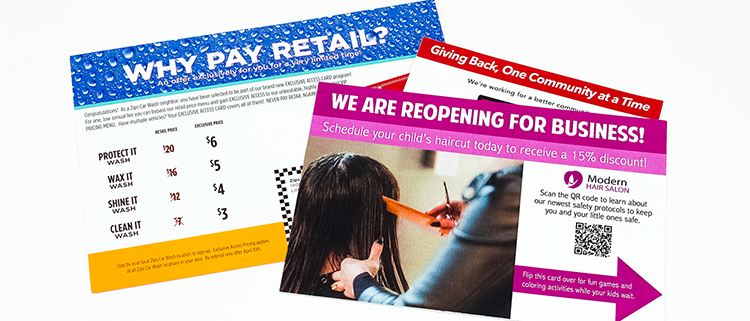 Mailed it! 3 Ways to Market Better During COVID-19
Direct Mail During COVID-19
As we all have learned, many of the strategies that worked before COVID-19 will no longer work now. Direct Mail marketing and Every Door Direct Mail, (EDDM), is proving its worth in the digitally-saturated COVID-19 era. Below are 3 ways to market better during COVID-19 with direct mail to get your brand in front of your customers.
Direct Mail vs. EDDM
A direct mail campaign is perfect for reaching existing customers and allows you to put your message in areas where it will be most effective. EDDM is generic which makes it the right fit to find new customers. Blast your message out to everyone in a specific location to find those who are new to your brand.
3 Ways to Market Better During COVID-19
Mail campaigns can be used to reach existing and new customers. But how are you going to win them over once you've reached them? We have a few direct mail best practices to keep your brand top of mind during COVID-19.
Deals
Right now, people are looking for deals. Consumers are still looking for products they need but they are trying to get the most bang for their buck. Highlight your discounts and promotions to help your customers get what they need.
Business Update
Inform customers of your updated business schedule. Generate excitement for your brands by bringing awareness to virtual events and sales. For a personal connection, include a QR code to videos of a representative giving updates on how your business is adapting
Community Outreach
Highlight the help your business is providing during the pandemic and how this benefits your mail recipients. Provide information on opportunities for your customers to partner with your business to expand that help deeper into the community. This is perfect for building goodwill with your customers and position your company as a community partner.
Magna IV has a wealth of experience executing direct mail campaigns. We are well-versed in best practices for direct mail and we can leverage our knowledge in USPS regulations to save you time and money on your campaigns.  Contact us today to get started on your mail campaign or click here to see our direct mail capabilities.
Contact Us Now for More Information
Phone: 501-376-2397
https://www.magna4.com/wp-content/uploads/2020/07/IMG_4865.png
535
750
Kristi Dannelley
https://www.magna4.com/wp-content/uploads/2021/02/Magna-IV-Logo-Horizontal-No-Tagline.jpg
Kristi Dannelley
2020-07-21 12:34:08
2020-08-31 09:37:56
Mailed it! 3 Ways to Market Better During COVID-19