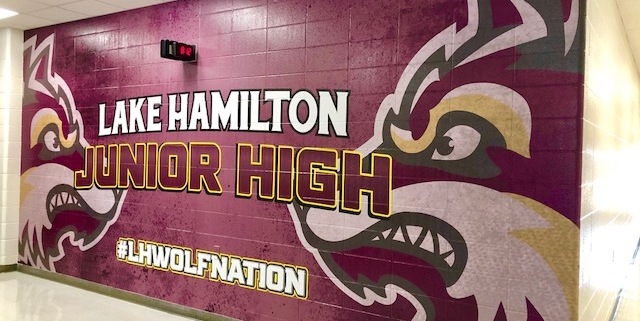 Interior Graphics Promote a Positive School Environment
Research supports staggering findings that propose how a student's academic progress and successes are powerfully impacted by the aesthetic of their surrounding environment. Interior printing, color, and design in a school setting have shown to drastically increase a student's progress by 25%. It's true; color, art, and exciting interior graphic design are pure magic to any student and can affect both their mental and emotional well-being.
What Colors Should You Use in Your School's Interior Graphic Design?
Below are 3 colors we recommend using in your interior printing that will boost a student body's academic engagement:
Yellow – amplifies creativity, attention, and positivity
Red – motivates attentiveness, enthusiasm, and ingenuity
Purple – radiates a sense of tranquility and serenity
The Impact of Color
Time and time again studies have shown just how impactful color can be in improving a student's successes and academic endeavors. In fact, interior printing in a school environment has the potential to reduce a student's blood pressure while promoting less sporadic behaviors and disruptiveness. Today, students have enough on their plates as it is. From early morning bus rides, academic stressors, extracurricular activities, and life at home with their family and friends; it's easy for a student to feel overwhelmed, sad, and unmotivated. Interior graphic design can help give a tired student the motivation and positive reinforcement he or she needs to push through the day, conquer obstacles and leave with a smile on their face.
School Design Tips and Tricks to Incorporate on Your School's Campus:
1. Integrate Accent Walls
A large accent wall can serve a multitude of design purposes in a school. Put a smile on a student's face with vibrant color and design!
2. Create custom wallpaper
Place custom interior wallpaper throughout your school hallway that will allow young children to practice their colors, numbers, and letters. 
3. Acquire custom cut lettering
Custom lettering will help to create a focal point in a boring school cafeteria bringing excitement and joy to any student.
4.Generate floor graphics
Consider floor graphics at your school to help make a statement for first-time visitors and guests.
Go big or go home! Interior design graphics are quick, affordable, and can help give your school environment a more lively appearance. Bring your school back to life with interior printing, custom murals, or other interior graphics.
Tip of the Day:
What color makes you the happiest, most concentrated, or energized? Think about implementing these colors into your daily life and watch your days transform!
Contact Us Now for More Information
Phone: 800-946-2462
https://www.magna4.com/wp-content/uploads/2019/08/IMG_8007.jpg
480
640
Kristi Dannelley
https://www.magna4.com/wp-content/uploads/2021/02/Magna-IV-Logo-Horizontal-No-Tagline.jpg
Kristi Dannelley
2021-03-04 16:20:25
2021-04-15 07:58:31
Interior Graphics Promote a Positive School Environment